JOHN&nbsp O'DONNELL
MARINE VET
HONORING A BRAVE MARINE HERO
THIS MAN HAS GIVEN OF HIMSELF EVERTHING HE COULD, SO THAT HIS BROTHER MARINES AND THE PEOPLE BACK HOME COULD LIVE A MORE PEACEFUL LIFE. THIS GIFT OF HIS LIFE SHOWS THE GREATNESS OF THIS HERO. HERO'S DON'T WEAR A CAPE OR MASK NO! THEY WEAR MARINE GREEN. AS EACH DAY PASSES,WE MUST TAKE THE TIME TO REMEMBER WHAT THIS HERO GAVE UP! SO THAT WE COULD LIVE IN A FREE SOCIETY. THANK YOU ! SEMPER FI! HERO YOU ARE NOT FORGOTTEN
Mar 20, 2014

mike  magers
Part of a newspaper clipping from LCPL Guzman's funeral service.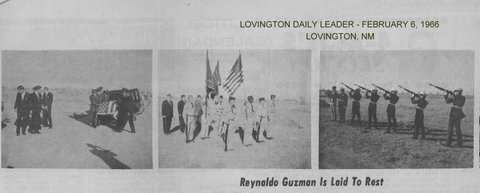 Rest in peace
Aug 27, 2012

Michael&nbsp McCarty
YOU ARE NOT FORGOTTEN !
Fellow veteran
SGT E-5 7th Infantry d.m.z Korea 68/69.
'Empty Chairs at Empty Tables' from Les Miserables
Oh my friends , my friends forgive me that I live and you are gone. There's a grief that can't be spoken there's a pain goes on and on Phantom faces at the window. Phantom shadows on the floor. Empty chairs at empty tables where my friends will meet no more. Oh my friends, my friends, don't ask me what your sacrifice was for. Empty chairs at empty tables where my friends will sing no more...
Jan 25, 2010

Sam&nbsp Sampson
lsampson@click1.net
His squad leader when he got killed
3999 Greenview Cove Humboldt, TN Tn 38343 Gibson
Squad leader
I was Roy's squad leader on the day of his death. We found an unexployed 155 and I told everyone to get back and Roy and Steve Page walked past me and I was on the radio and it was detonated by wire. They died instantly. I tried CPR and mouth to mouth but it was to late. Semper Fi Sam Sampson Sr
May 17, 2009

Fellow&nbsp Marine
Well done Marine rest in peace

THE TIME you won your town the race We chaired you through the market-place Man and boy stood cheering by, And home we brought you shoulder-high. To-day, the road all runners come, Shoulder-high we bring you home, And set you at your threshold down, Townsman of a stiller town. Smart lad, to slip betimes away From fields where glory does not stay And early though the laurel grows It withers quicker than the rose. Eyes the shady night has shut Cannot see the record cut, And silence sounds no worse than cheers After earth has stopped the ears: Now you will not swell the rout Of lads that wore their honours out, Runners whom renown outran And the name died before the man. So set, before its echoes fade, The fleet foot on the sill of shade, And hold to the low lintel up The still-defended challenge-cup. And round that early-laurelled head Will flock to gaze the strengthless dead, And find unwithered on its curls The garland briefer than a girl's. A.E. Housman, "Don't be afraid, I've redeemed you.
I've called your name. You're mine.
Isaiah 43:1 (REN)
Semper Fi

Jan 25, 2008

manny g
Fellow Veteran 69-70 An Khe
Union Gap, WA. 98903
"You are Remembered"
Peace and condolence, to the family and friends. "He which hath no stomach to this fight let him depart. But we in it shall be remembered. We few, we happy few, we band of brothers!! For he today, that sheds his blood with me, shall always be my brother". Rest in peace brave soldier, you have not been forgotten. (W.Shakespeare) May God Bless You for your Sacrifice!!!
Jan 25, 2007


arturo garza
sgteseusmc@yahoo.com
NAM VETERANO
TEXAS el VAlle
DESCANSA EN PAZ
DESCANSA EN PAZ, ESE! Rest In Peace, Cpl. Guzman. Reynaldo, you are not forgotten, carnal. No nos hemos olvidado y no nos olvidaremos. Even as years pass, NAM keeps coming back to us. We of LA RAZA were few, but we were everywhere and we fought hard and proud. As long as the VIETNAM VETERANS MEMORIAL WALL stands and is with us, you are among Americans that care. WE WON'T FORGET! Semper Fi, bro. (Lima 3/1 '66 & Alpha 1/27 '68)
Tuesday, January 25, 2005

M Magers
played TAPS for this hero
Reynaldo was the first Vietnam casualty from Lovington, to the best of my knowledge. I played TAPS for him at his graveside service. It was a real honor and I will never forget it.
2002

REST IN PEACE MARINE
sgteseusmc@yahoo.com
NAM VET FROM TEJAS
HONORING YOUR SERVICE, COURAGE AND SACRIFICE
YOU ARE NOT FORGOTTEN, SEMPER FI, BRO
FORTY (40) YEARS AGO TODAY, YOU GAVE THE SUPREME AND ULTIMATE SACRIFICE FOR OUR COUNTRY. YOU SERVED HONORABLY AND DIED GALLANTLY IN THE FIELD OF BATTLE. A TRUE MARINE, A HERO. R.I.P.
Wednesday, January 25, 2006